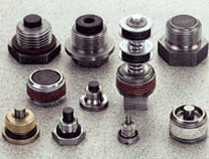 Precision Fittings is located forty miles Southwest of Cleveland on a ten acre site in Wellington, Ohio. Established in 1947 as U.S. Plug & Fittings Company, currently Precision Fittings employs about 60 people and continues as a manufacturer of pipe plugs and specialty products.

The facility consists of 60,000 square feet, arranged to optimize manufacturing flow. Special emphasis is placed on a good work environment and continual improvement in manufacturing capabilities, products and service to customers.

Many markets are served, including aircraft, aerospace, automotive, heavy truck subcontractors, heating, cooling, hydraulic, pneumatic controls, machinery manufacturers, machine tools, military and ordnance, mining, construction, power transmission, pumps, compressors, small engines, valves and fittings. Total sales are evenly divided between distributors and manufacturers.